BLOG


On 14 January 2014 Oracle will release a new version of Java.
After 14 January the new version of Java will insist that all applets are signed. Users wishing to install version 7u51 should be aware of the repercussions. This is likely to impact those customers that use the iDelve Enterprise Maps application, which incorporates Java applets for the map component.
Organizations which publish a publicly available Java applet should ensure that the applets are signed
This may require:
Communication to the publisher of these applets (please call or email Amristar if you publish an iDelve applet – see below).
Communication to BYOD ("bring your own device") and non-managed systems of the impact of this change.
Deployment of RIA (Rich Internet Applications) by signing applets can be performed
By any organization having the required skills and code signing certificates.
By Amristar who will be maintaining such a capability to support customers with current product maintenance (again, information about this will be kept up to date here).
iDelve applications will not be affected if you are using a HTML5 version of iDelve maps
Once this change has been implemented the option to run unsigned applets (presented as a message such as the one shown) will no longer be supported by Java 7u51. A signed applet will be considered trusted and will run without requiring as much user intervention.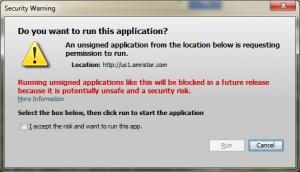 Cloud | Maps | Business apps